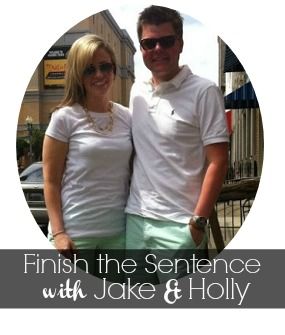 This is one of my favorite links ups - I'm so glad
Jake
and
Holly
decided to bring it back! We asked and the blog gods answered ya'll.
1. I always pick…
something healthy off the menu when we go out to eat, then steal fries from my husband's plate...
2. Look at the size of those...
sangrias...said by me last week at a Mexican restaurant. I had two (it was happy hour).
3. I recently learned....
that Frozen is a completely awesome movie!!
4. Only when no one is looking...
do I take selfies....
5. I lost my....
shit A LOT this week. I need to bake my husband and kid one of these:
6. I was certain I'd…
by now be making mucho money, own a home and 2 nice cars and basically have my shit together. It's a work in progress
7. There is not enough liquor in the world for me to...
listen to Justin Bieber
8. I just finished...
a rice cracker and chocolate peanut butter. I'm still hungry. Surprise Surprise.
9. Why does everyone have to be...
annoying lately. Or maybe it's just me. See number 5.
10. It's very rare when I...
get any time to myself. A trip to Tar-Jay is like a vacation. I love my husband and kid
but
I also love silence and getting to eat a cake pop all to myself. See number 5.
11. If I were a dog...
I would want to be my puppy. She sleeps ALL DAY. Then when we get home she runs around for 30 mins and naps some more.
12. I don't believe...
in coincidences. Or wine coolers.