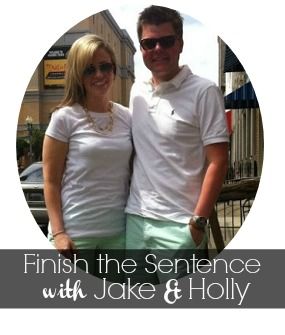 I'm linking up with Holly & Jake for finish the sentence...
only I cannot limit myself to one sentence per answer
1. My favorite Christmas was....
Christmas 2006 - the first year Jay and I were dating.
Jay had flown to NJ a few days before Christmas and I flew up there on December 26 (by myself - a big feat for 18 year old me).
I was introduced to all things county-fied on that trip.
His Dad tried to get me to eat some deer meat from a deer they had killed in their back yard like 5 days prior. I saw some Amish - real ones not like that TV show.
I learned that Delaware has tax free shopping and that no one in Salem County NJ can understand my English accent. They tried to get me to shoot a gun, I went to Wawa for the first time.
I also learned that the cherries my Father in Law has in the fridge at Christmas are soaked in peach schnapps and will get you very drunk very quickly.
2. The worst Christmas I had...
Christmas 2010. NJ got hit with a huge snow storm and our flights from Orlando were cancelled.
We tried the next day and after waiting for 5 hours they cancelled our flight as we were taxing on to the runway. Alexis was 6 months old and I ran out of baby food and formula. Luckily a lady on our flight had spare. Jay was ready to go and rent a car and start driving. I went to a different airline who wanted $400 for tickets. I went online and booked the same ones for $70 each and we were off.
It was a very stressful 24 hours.
This was taken after we got to Philly
3. That one gift that made me scratch my head and say, "Hmmmm" was...
One year we got a card from a relative, and inside it said "buy your own gift"
We thought it was weird but as they were elderly, but we just let it go.
Turns out someone had a senior moment and forgot to put in the check he had written for us.
4. One year I....
was being cheap and didn't want to buy a tree.
We lived on 2 acres in the country so we decided to cut down one of the pine trees in our yard and use that! Turns out the darn thing was full of bugs and beetles and died in like 2 days.
My living room was infested and I still didn't have a tree.
5. I think the worst gift to give is....
something you are obviously re-gifting.
Last year I got a candle set with a 2009 tag on it. Firstly candles are kind of lame anyway, but at least wipe of the inch of dust from the packaging before re-gifting.
6. At Christmastime I typically....
plan to make everyone handmade gifts, spend weeks pinning shit and then run out of time and end up buying stuff from Target anyway.
Every. Damn. Year.
7. Typically family Christmas....
a time for traditions, laughter and a greater appreciation for your own personal space.
8. If I could change one thing about the Holiday season....
just one thing?
I wish everyone would stop getting hung up on being PC.
9. It is so hard to buy for....
everyone when you are on a budget! Is it just me or did stuff get expensive this year?
In refuse to put myself into debt for Christmas.
10.
My favorite Christmas tradition is...
the Christmas eve party my in laws throw every year.
Food, drinking, laughing and some stupid games. It's perfect.
Also, the epic Christmas morning breakfast we get at Jay's aunts house.
11. Santa, baby, bring me a ....
Canon 70D please :)